<--previous-- -home- -sitemap- -works- -statements- -résumé- -calendar- -recent- -current- --next-->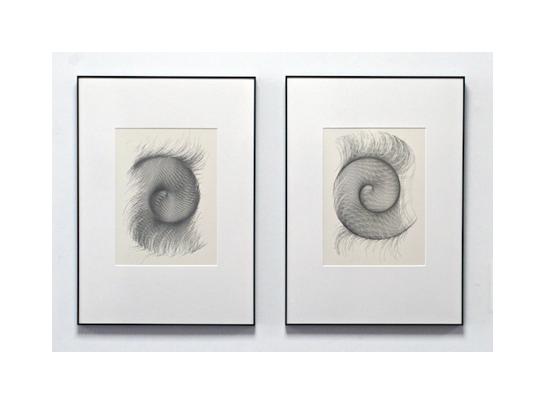 just enough chance: lighter (and darker) nautilus (2007)
graphite lead, 24x18 strathmore paper


"edge" at the channing peak gallery
the edge theme is very appropriate for my work, for many reasons, in the proper and the figured senses.
so i have submitted several pieces for this group show, square pieces of medium size with several levels of edge occurences and references. the exhibition is curated by ro snell, whom i have met many years ago in her former chapala st. gallery, the finest i have known in santa barbara. i had brought a portfolio, and ro snell stated there was something of agnes martin in my work. at the time i did not know agnes martin then, but curious, i looked her up and discovered her wonderful work. i later made a series of small pieces derived from agnes martin, ink and graphite, collected in a small folder.
ro snell has selected two graphite lead on paper drawing for edge, and the show opened oct.2, 2008 till jan.16 '08. there will be a tour with artists presentation of their work on nov.6.
and despite the fact that the basis of this mathematical way of thinking in art is in reason, its dynamic content is able to launch us on astral flights which soar into unknown and still uncharted regions of the imagination.
(max bill)

jean-pierre hébert contact. (11 Oct 2008)