<--previous-- -home- -sitemap- -works- -statements- -résumé- -calendar- -recent- -current- --next-->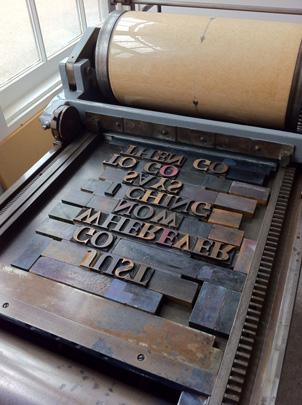 centenary mesostic on the ucsb print lab letterpress (2012)
digital image, documentation


cage centenary
to celebrate john cage centenary, we have organized with alejandro casazi and harry reese an event and an associated project.
the event: a meeting of cage's friends in the ucsb print lab on cage's birthday sept 5 2012.
the associated project: a call for mesostics on the name of john cage, call to remain open for the whole centenary year: one hundred mesostics for john cage.
the contributed mesostics are collected locally and over the internet via email in various formats.
as well as any related events, the collection is recorded and available on the cage100 web site that will remain in progress throughout the project.
the collection may also be shown or published in unforeseen ways.
our event was briefly listed on the john cage trust site. till the end of the centenary year, all are invited to contribute her/his mesostic(s) to our project mailbox: 100mesostics at gmail dot com
sculpture is the art which has traditionally been the one that survives.
(isamu noguchi)

jean-pierre hébert contact. (27 Oct 2012)