<--previous-- -home- -sitemap- -works- -statements- -résumé- -calendar- -recent- -current- --next-->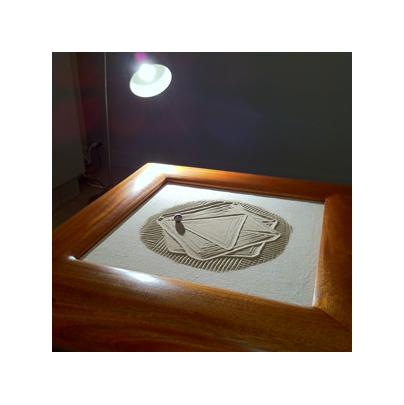 sisyphe in the spotlight (2011)
sand, light and mahogany, documentation


sand installation in logan
sisyphe has been installed at the nora eccles harrison museum of art at utah state university, logan. a webcam will be operational shortly, providing remote views of the current sand trace.
a complete rewrite of the software allows the piece to work with current hardware and software instead of legacy ones. this will facilitate future maintenance by the museum curators. this had become necessary after the original layers of software libraries involved had evolved out of sync, creating damning timing errors that sometimes jammed the system.
the rewrite also opens new possibilities for the further iterations of these sand gardens, allowing adoption of new motion control technologies.
when a work appears to be ahead of its time, it is only the time that is behind the work.
(jean cocteau)

jean-pierre hébert contact. (23 Nov 2011)